So, it's time to greet the new weather with some new attire. And everyone likes to dress to impress, so lets show up mother nature. The big trends this season are....
1) Nude Colors- It sounds super scandalous, but the runways were barely-there in this pretty color. PS, try it on your heels to give your legs an elongated look. The key is finding the right color to match your skin tone.
2) Color Block- Seems like a flash back from a few seasons ago (spring 2008 ring a bell anyone?) but color block has almost every retail store. Try it on a crop top like these from Urban Outfitters...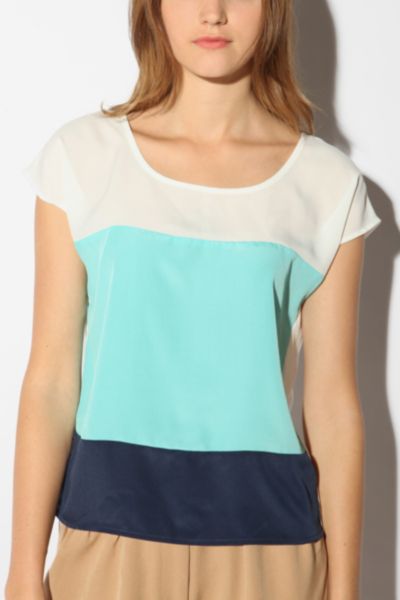 Urban Outfitters Color Block Top $54
Marc By Marc Jacobs S/S 2011
3. Florals- What is more reminiscent of spring then flowers? This season florals could be seen everywhere from rompers to dresses to cardigans to shorts...
Free People Shorts $58
4. Classic 50's Style- The runways seemed to be in a time warp this february. We easily could have been in 1950 with the mid-length skirts (think pleated or flare) , "fit and flare" 50's silhouette, the quintessential cardigan, the peter-pan color, and pussy-bow blouses. Looking for inspiration? Check out Bridget Bardot or Audrey Hepburn! Or you can always google the classy character of Kristin Davis as Charlotte York in Sex and The City...
Louis Vuitton Runway A/W 2010
L'Wren Scott S/S 2010
TBA Bow Tie Collar Button Cardigan ASOS $251
Kourtney Kardashian sporting the pussy-bow blouse
5. Minimalism- We'll keep it simple, like this trend.
Calvin Klein Romper S/S 2011
White is the new black, anyone?
Try rocking all white like in this Band Of Outfitters Ensemble
5. Seventies are all the rage in this post modern era. Bell-bottoms aka wide-leg trousers are all over. Try a floppy hat for super sunny days, and don't forget about flowy lace.
6. Maxi- Max it out with the super long hem of a maxi dress. Stick with a simple black for a casual day, or a pretty floral. Feeling extra casual? Try a t-shirt maxi dress- perfect for lounging around.